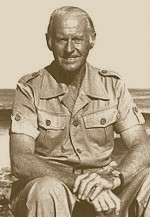 Thor Heyerdahl (October 6, 1914, Larvik, Norway - April 18, 2002, Colla Micheri, Italy) was a Norwegian ethnographer and adventurer with a background in zoology and geography. He became notable for his Kon-Tiki expedition, in which he sailed 8,000 km (4,300 miles) by raft from South America to the Tuamotu Islands.

In May 2011, the Thor Heyerdahl Archives were added to UNESCO's "Memory of the World" Register.[1] Currently, this list includes 238 collections from all over the world.[2] The Heyerdahl Archives span the years 1937 to 2002 and include his photographic collection, diaries, private letters, expedition plans, articles, newspaper clippings, original book and article manuscripts. The Heyerdahl Archives are administered by the Kon-Tiki Museum and the National Library of Norway in Oslo.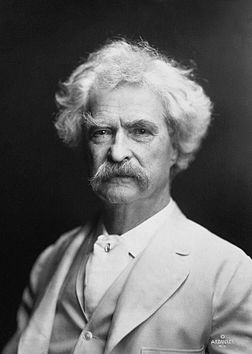 Samuel Langhorne Clemens (November 30, 1835 - April 21, 1910),[1] better known by his pen name Mark Twain, was an American author and humorist. He is most noted for his novels, The Adventures of Tom Sawyer (1876), and its sequel, Adventures of Huckleberry Finn (1885), the latter often called "the Great American Novel."

Twain grew up in Hannibal, Missouri, which would later provide the setting for Huckleberry Finn and Tom Sawyer. He apprenticed with a printer. He also worked as a typesetter and contributed articles to his older brother Orion's newspaper. After toiling as a printer in various cities, he became a master riverboat pilot on the Mississippi River, before heading west to join Orion. He was a failure at gold mining, so he next turned to journalism. While a reporter, he wrote a humorous story, The Celebrated Jumping Frog of Calaveras County, which became very popular and brought nationwide attention. His travelogues were also well-received. Twain had found his calling.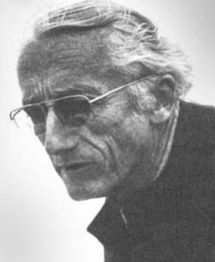 Jacques-Yves Cousteau (French pronunciation: [ʒak iv kusto]; commonly known in English as Jacques Cousteau; 11 June 1910 - 25 June 1997)[1] was a French naval officer, explorer, ecologist, filmmaker, innovator, scientist, photographer, author and researcher who studied the sea and all forms of life in water. He co-developed the aqua-lung, pioneered marine conservation and was a member of the Acadèmie francaise. He was also known as "le Commandant Cousteau" or "Captain Cousteau".